About Us
Our "Someday" has become a Reality.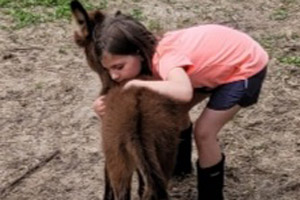 We talked for years about getting a place in the country, maybe a few animals, and enjoying the peacefulness that comes with country living...and Here We Are! Then, we made the decision to look at miniature donkeys with the possibility of bringing a couple of minis into our family. Well, as some of you know, it is impossible to see, pet, and snuggle a baby donkey and not fall in love. And it was "love at first sight". Our "couple of mini's", turned into four; which became seven, and by mid-summer,will be eight beautiful, sweet, and loving miniature donkeys.
McIver Mini Farm is a peaceful retreat for our miniature Donkeys (as well as their humans). The wooded acreage, in a park-like setting, makes for relaxation and serenity and allows our donkeys to feel at home with nature. They are a part of our family and are shown love and affection every day. Our Jennets are only bred once every two years, so our foals are very limited. They stay with their mother until they are weaned at 6-8 months.The health and well being of our donkeys will always come first. All of our donkeys are registered, micro-chipped, and receive routine medical and dental care.
We are so very thankful that we had the good fortune to meet Steve Crim of Assphalt Acres. He not only introduced us to God's most loving creature, his vast knowledge of miniature donkeys and his willingness to share that knowledge, helped us every step of the way. We thank Steve for answering the hundred's of questions, responding to all of the emails and text messages, and allowing us to visit Assphalt Acres on many occasions. His advice and guidance helped to make our "Someday" a Reality.
Bruce & Jodi McIver
CONTACT INFORMATION:
Hello Sunshine Mini Farm LLC
Jodi & Bruce McIver
7965 Milton Potsdam Road
West Milton, Ohio 45383
937.313.5065